---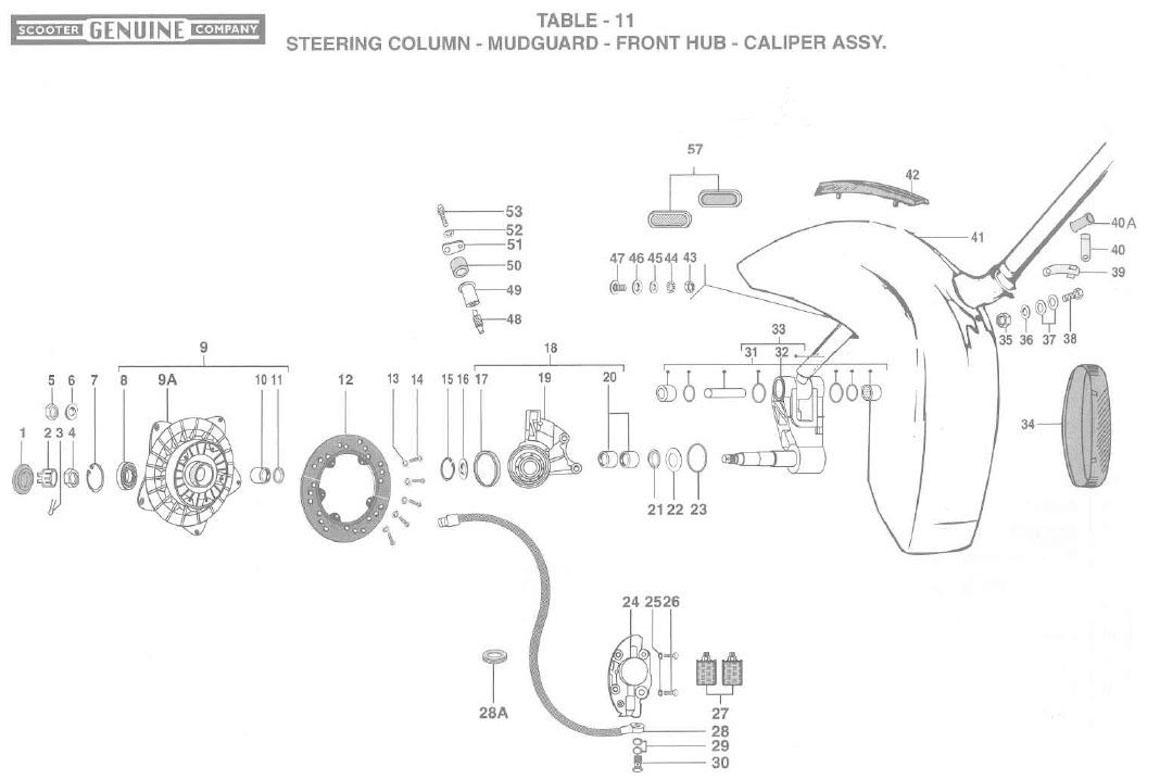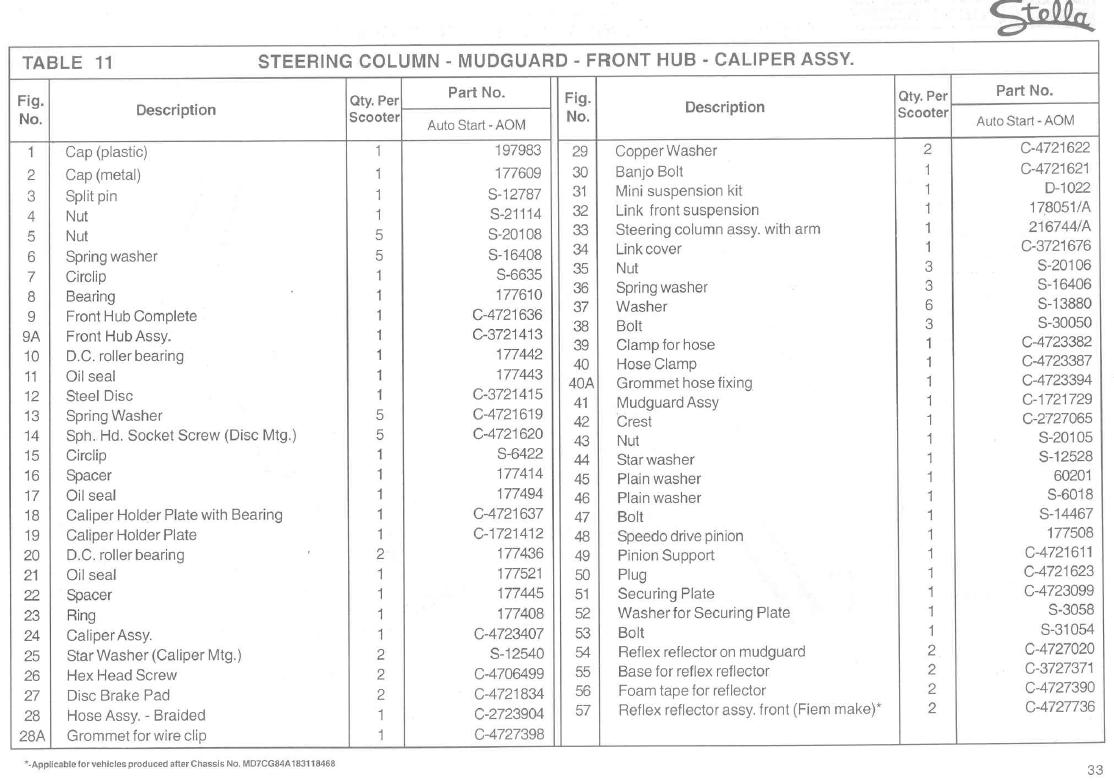 #1 Plug
#2 Cap
#3 Split Pin

#4 Nut

#5 Nut

#6/#19 Spring Washer 8.15 X 4.4
#7 Circlip

#8 Bearing (6202RSR)

#9 Front Hub

#10 Needle Bearing (08 20 25 16 P)

#11 Oil Seal

#12 Brake Disc

#13 Disc Washer

#14 HD SOCKET SCREW

#15 Circlip

#16 Spacer
#17 Oil Seal

#18 Caliper Holding Plate w/ bearing
#20 Needle Bearing (08 22 28 12 P)

#21 Oil Seal
#22 Spacer
#23 Ring

#24 Caliper Assy
#25/#8 Washer

#26 Screw

#27 Disc Brake Pad - Pair

#28 Hose Assy
This is the OEM front brake hose (hydraulic brake line) for the Genuine Stella. Also fits disc brake Vespa PX models. This item used to be over $300, but due to a change in suppliers, it's now just $99. Buy two in case the price goes back up. You'll be rich.

#29 Washer, Banjo
#30 Banjo Bolt
#31 Mini Suspension Kit

#32 Front Suspension

#33 Steering Column Assy

#34 Suspension Cover
#35 Nut

#36 Spring Washer

#37 Washer

#38 Bolt (18x25)
#39 Clamp for Hose

#40A Grommet

#41 Stella Front Fender
Click to enlarge image(s)
NOTE THE FOLLOWING ABOUT STELLA BODY PANELS: The factory that makes the Stella is in India. They don't have flying space robots to paint the scooters there. They are painted by real guys using technology slightly better than a brush and roller. All body panels will have slight flaws and blemishes in the paint. This is normal and gives the scooters character, so revel in the authenticity.

This is the body panel located above the front tire

To view this panel in the parts manual and other relating parts click here Stella Steering Column





#42 Fender Crest

#43/#18 Nut
#44 Star Washer
#45 Washer

#46 Washer

#47 Screw

#48 Speedo Pinion

#49 Pinion Support

#50 Plug (Speedo Cable)

#51 Securing Plate

#52/#9 Washer

#53 Bolt
---
THANK YOU FOR SUPPORTING OUR SMALL FAMILY-RUN BUSINESS
We now offer a Mobile Service! Call to schedule a pickup.

Please place all parts order through this website.
We
do not place orders over the phone
. Please email us any questions.