---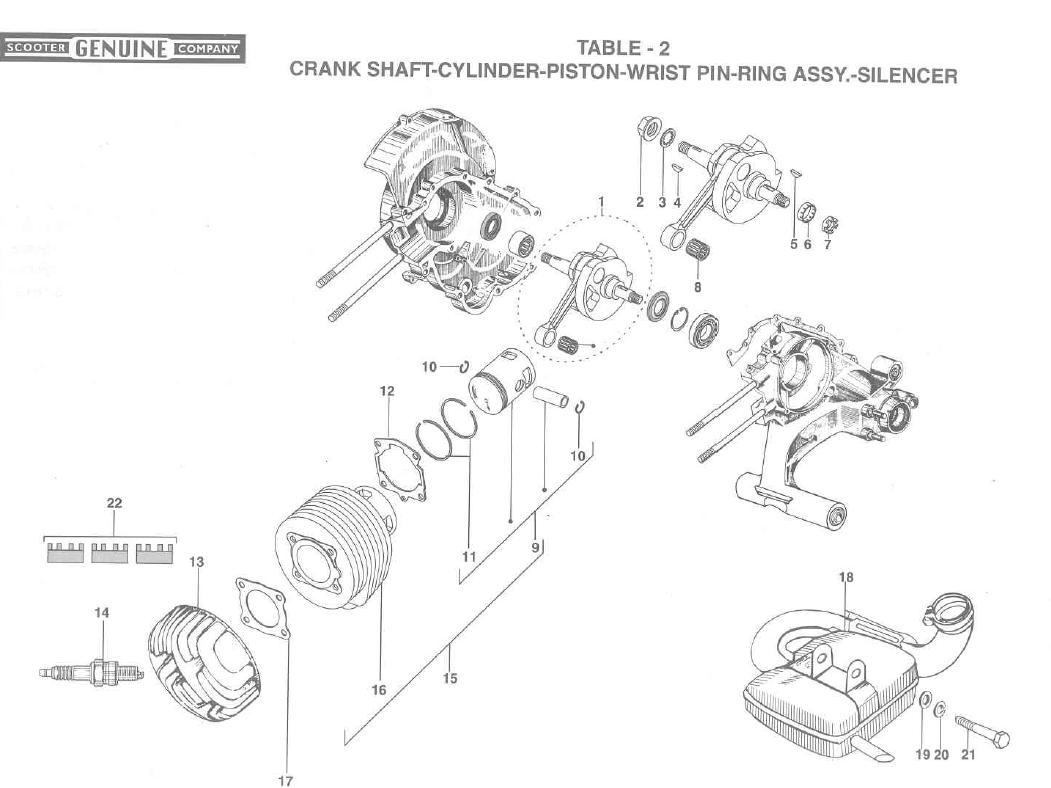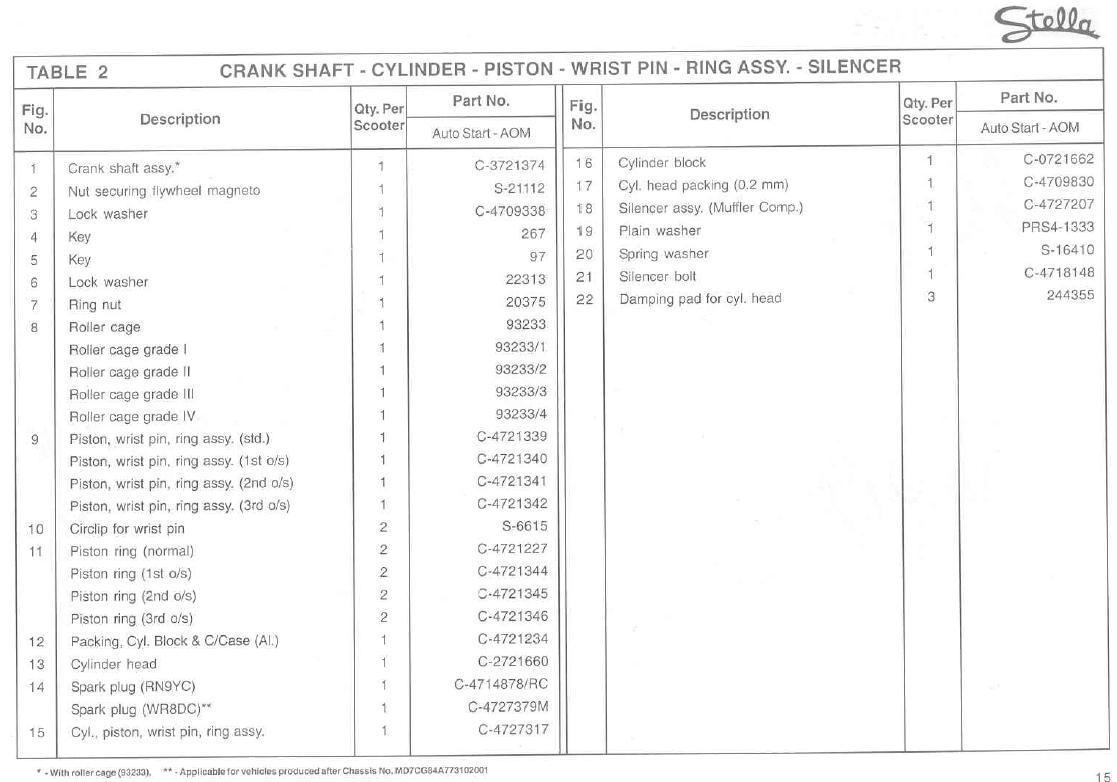 Crankshaft Assy.
Nut

Lock Washer
Woodruff Key, Flywheel

Woodruff Key

Ring

Ring Nut

Roller Cage

Roller Cage

Roller Cage

Roller Cage

Piston Complete (standard) (57.8)

Piston Complete (1st o/s)

Piston Complete (2nd o/s)

Piston Complete (3rd o/s)

Circlip

Piston Ring (standard)

Piston Ring (1st o/s)

Piston Ring (2nd o/s)

Packing

Cylinder Head Stella 2T

Cylinder Assy Stella 2T

Packing

Plain Washer

Lock Washer

Bolt

Damping Pad, Cylinder Head
Exhaust, Sito Plus - P125X, PX150, Stella
Click to enlarge image(s)
The best bang-for-buck ratio of all the pipes we sell. Gives a good increase in power and torque, especially in the midrange. Improved acceleration and better power for holding speedup hills, into the wind, and with a passenger, as well as a slight improvement in top speed. Sounds great too!
Fits P125/150/Stella, and also can be easily modified to fit Super, VBB, VNB, Sprint, and GT. A bracket on the muffler simply needs to be cut off for these models.

PRIMA EXHAUST (PERFORMANCE, LEFTY); P125, PX150, STELLA 2T
Click to enlarge image(s)
These are the nicest stainless steel expansion chambers we've seen! Thick material, exceptional build quality, perfect welds, and shiny polishing make this the pipe to have!
With the same performance as a Scorpion, JL, or PM Tuning, but a much lower price tag, this is the best deal around.
Fits P/PX 125 and 150, with or without a cylinder kit. You'll have to relocate your spare tire to mount it. A rear rack like the RRC5 will work nicely to hold your spare. Will also fit Sprint or other early models with a 125-150 engine, but the pipe interferes with the centerstand so you'll have to use a sidestand instead.

EXHAUST (STANDARD); VESPA P/PX
Click to enlarge image(s)
Stock exhaust for P125/PX125 and P150/PX150.
Product is intended as OEM equivalent for listed models. Any misuse, alteration or alternative application is prohibited by law.
SPORT PIPE FOR 2 STROKE VESPA PX 150, STELLA 2T
Click to enlarge image(s)
This is a non-expansion type, OEM-style, performance exhaust. This low-profile performance / road pipe gives you more power without the noise!
Brand: Prima
Color: Black
Fits: 2T Vespa PX 150, Stella 2T
---
THANK YOU FOR SUPPORTING OUR SMALL FAMILY-RUN BUSINESS
We now offer a Mobile Service! Call to schedule a pickup.

Please place all parts order through this website.
We
do not place orders over the phone
. Please email us any questions.