---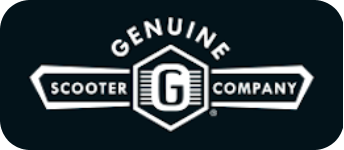 Genuine Scooter Company was founded in 2002 by a scooter enthusiast in Chicago, IL. In 2003 we were their number one dealer. We have sold a bazillion of them over the years and we love them. Take one for a test ride, we think you'll love them too.
---
THANK YOU FOR SUPPORTING OUR SMALL FAMILY-RUN BUSINESS

_____________________________________________________
We will be closed Saturday, September 23rd
for our annual scooter rally
PROVOPHENIA
See details at www.brighamsbees.com.
We gladly service the brands we sell:
~VESPA, PIAGGIO, GENUINE, NIU, ROYAL ALLOY, SYM, LANCE AND SCOOTSTAR~
Please call or email
to schedule an appointment before bringing your scooter in. Scooters are accepted only during business hours so please do not leave your scooter outside our building after store hours.
If you experience a problem regarding our repairs on your scooter, please bring it back within 30 days so we can make it right. Vehicles that are not picked up upon completion after 3 business days will be charged storage fees of $10/day unless arrangements are made with management. After 30 days property will be considered abandoned and sold.
We DO NOT work on off-brand scooters made in China unless they can get to us under their own power.

We DO NOT work on legacy vehicles (scooters that are out of production and parts are unavailable) unless they can get to us under their own power.
We DO NOT work on mopeds (gas powered vehicles with pedals), Honda Express, Trails, or Passports.

We DO NOT work on motorcycles.
We DO NOT work on stand up kick scooters unless it is a brand that we sell.
We DO NOT work on electric bicycles unless it is a brand that we sell.

We have a waiting list if you need work on Vintage Vespas. Please DO NOT drop off your vintage Vespa unless we have called you to bring it in.
_____________________________________________________

All parts orders should be placed through this website.
For assistance

please

email us at parts@thescooterlounge.com.
We cannot place order over the phone.